Frank's Fruit Trees
Regular price
$61.97
Sale price
$56.99
Unit price
per
Sale
Sold out
Bundle and save!
This bundle includes everything you need to get started with your citrus tree:
Dimming 600W LED Grow Light for Citrus Trees (includes grow light, hanging kit, remote, thermometer/hydrometer - 3x AAA batteries not included)
13-6-6 Fertilizer for Citrus Trees
Frank's Original Soilless Mix (2-gal)
*Basket not included
Highlights

This grow light can replace full sun for your citrus tree and can cover up to two trees!

Our fertilizer is perfect for citrus trees and one bag will last up to four years!

Frank's special formula of soilless mix is specially made for citrus trees, and is available EXCLUSIVELY at Frank's Fruit Trees!
Item Sizes

Dimming 600W LED Grow Light for Citrus Trees:

Grow light panel dimensions: 15.4"W x 7"L x 2"H

Coverage area: 2'x2' if your citrus tree is in a vegetative state, or 1.5'x1.5' if your citrus tree is flowering/fruiting

13-6-6 Fertilizer for Citrus Trees:

1/4 lb. of fertilizer. This small bag will feed one tree in a one-gallon container for four years.

Frank's Soilless Mix:

2 gallon bag of original soilless mix
Use

Dimming 600W LED Grow Light for Citrus Trees:

Hang the light approximately 16-18" above the tallest point
of your tree. Be careful to not hang the light too close - lights can burn leaves!

If your tree is getting full sun naturally in your home, only use this light as a supplement (as needed) to provide a maximum of 12-16 hours total of light per day for your tree.

If your tree does not get any natural sun, it is recommended to use the light to provide 12-16 hours of light per day.

The light has a built-in timer which allows you to automatically turn the light off after a set amount of time!

13-6-6 Fertilizer for Citrus Trees:

Sprinkle on soil once every two months as follows:

1 gallon . . . . . . . . . 1 teaspoon

2 gallon . . . . . . . . 2 teaspoons

3 gallon. . . . . . . . 1 tablespoon

5 gallon. . . . . . . . . . . . .1 ounce

15 gallon . . . . . . . . . . 4 ounces

20 gallon . . . . . . . . . . 6 ounces

Frank's Soilless Mix:

Use Frank's Soilless Mix in place of soil for your citrus tree. This mix will last up to ten years, so there is no need to replace it for a while!
Specifications

Dimming 600W LED Grow Light for Citrus Trees:

PAR Value:

12" above plant: 963 umol/m/s²

14" above plant: 651 umol/m/s²

18" above plant: 416 umol/m/s²

13-6-6 Fertilizer for Citrus Trees:

Ingredients & Guaranteed Analysis:

Ingredients: Ammonium Nitrate, Ammonium Sulfate, Diammonium Phosphate, Urea-Formaldehyde, Sulfate of Potash Magnesium, Calcium Carbonate, Magnesium Oxide, Sodium Borate, Copper Sulfate Penehydrate, Iron Sulfate, Manganese Oxide, Zinc Sulfate.

Guaranteed Analysis: TOTAL NITROGEN: 13.00%* (3.37% Ammoniacal Nitrogen, 1.01% Nitrate Nitrogen, 2.54% Other/Water Soluble Nitrogen [and/or Urea Nitrogen], 6.08% Water Insoluble Nitrogen), AVAILABLE PHOSPHATE: 6.00%, SOLUBLE POTASH: 6.00%, CALCIUM: 2.00%, TOTAL MAGNESIUM: 5.00%, SULFUR: 6.00% (6.00% Combined Sulfur), BORON: 0.02%, TOTAL COPPER: 0.08% (0.08% Water Soluble Copper), TOTAL IRON: 0.30% (0.30% Water Soluble Iron), TOTAL MANGANESE: 0.30%, TOTAL ZINC: 0.10% (0.10% Water Soluble Zinc)

*6.05% SLOW RELEASE NITROGEN FROM: Urea Formaldehyde

Frank's Soilless Mix:

Contains: coconut chips, coconut coir, perlite
Collapsible row

We have a 5-day return policy, which means you have 5 days after receiving your item to request a return.

To be eligible for a return, the items must be in the same condition that you received them and in their original package. You'll also need the receipt or proof of purchase.


If your return is accepted, we'll send you a return shipping label if needed, as well as instructions on how and where to send your package. Items sent back to us without first requesting a return will not be accepted. Please note, all return shipping charges will be deducted from your refund.

For more information, please see our refund policy.
Share
View full details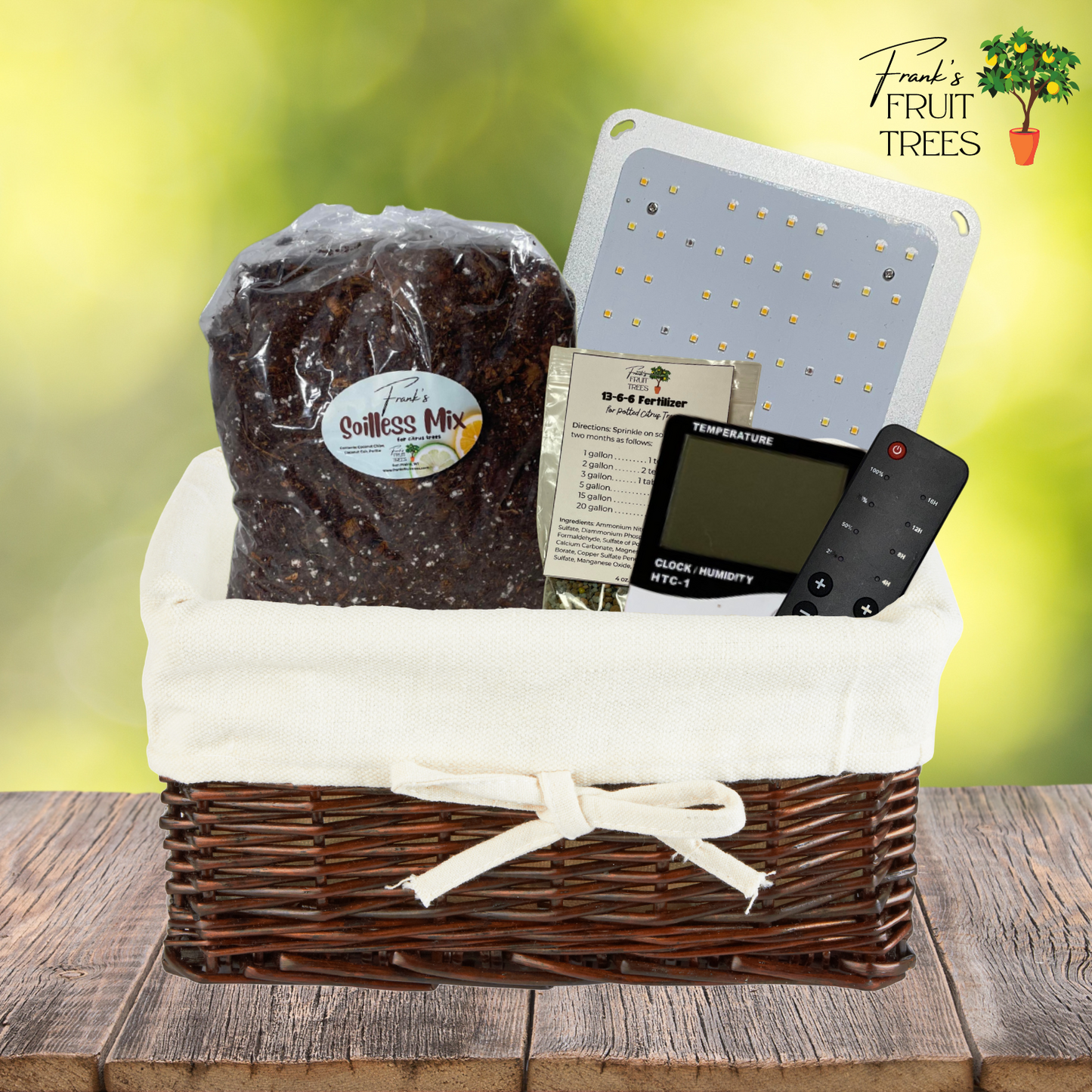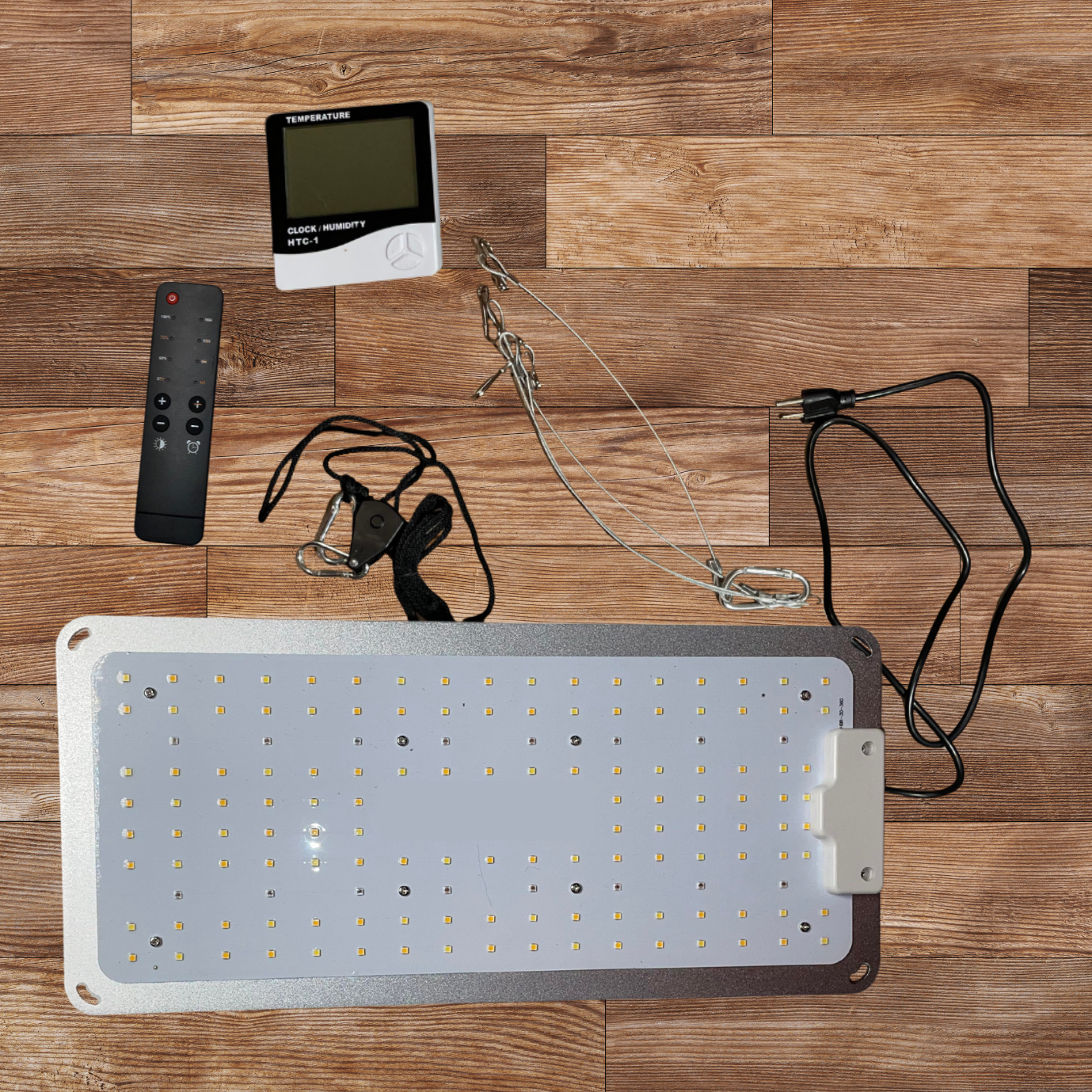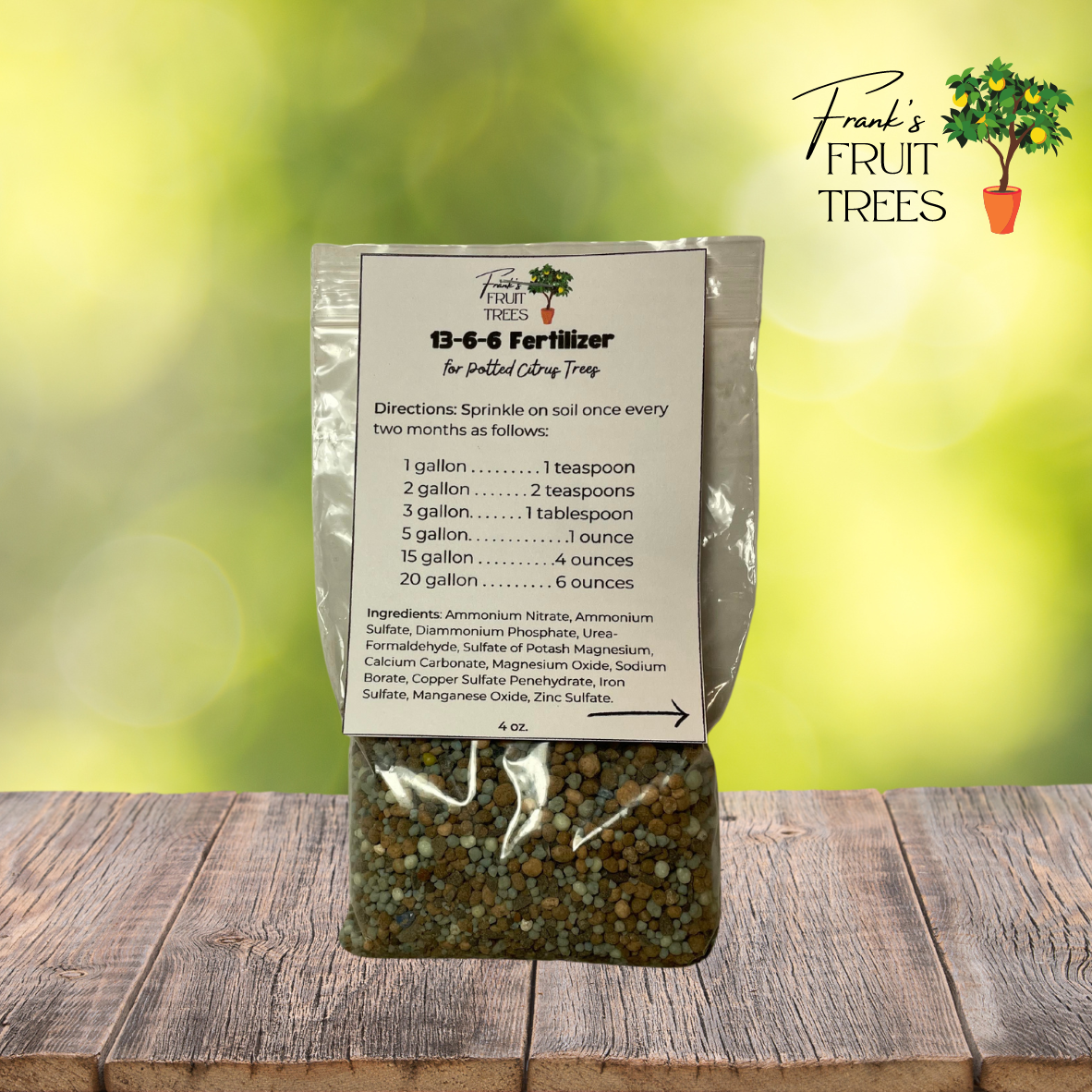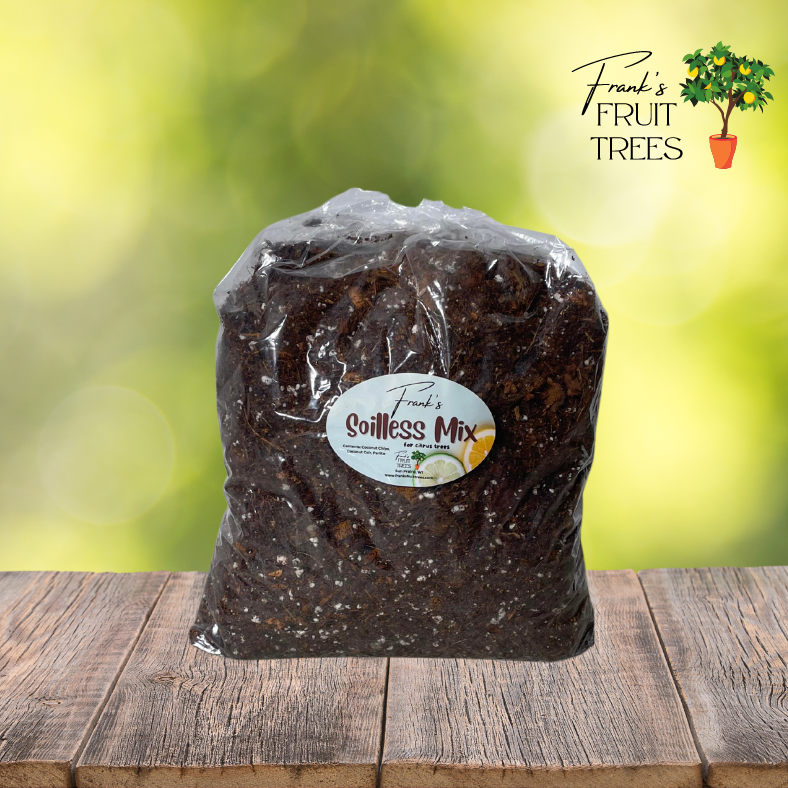 We're different from other sellers.
Transparency

We use photos of our actual products so you know what you're ordering. None of that small print stuff.

Customer service

We are here to help every step of the way. Have a question before you purchase? A year later? Reach out! We love talking about plants anyway.

Small business in Wisconsin

We aren't a big corporation that pays the big boss and takes from the little guy. Just a family-run small business in Sun Prairie, WI.

Indoor fruiting trees

Our trees never have to be planted in the ground unless you want to. That means they can be grown from any location - as long as they have enough light, of course. Hello, fresh lemonade!